Call us: (+91) (044)- 49113111/28113111

ROOMS AND COTTAGES
Running hot/cold Water-(Limited timing)
Same day Laundry Facility
18 Hour Room Service Which Serves all the food varieties of vegetarian cuisine
Professional Housekeeping services
Doctor on call
Express check out system
Std /Isd /Fax Telephone facility
SatelliteChannels/ Television in all the rooms
Ours is a Hotel which is listed in the famous foreign guide " Lonely Planet ". Stay with Us With a real trust to experience the real feeling of home away home.
Contact US
New Woodlands Hotel (P) Ltd 72-75,Dr.Radhakrishnan Road, P.B No 626 Mylapore,
Chennai-600004
India
Phone: 28113111
Fax: 28110460
Email: newwoodland@vsnl.com
Email: mail@newwoodlands.in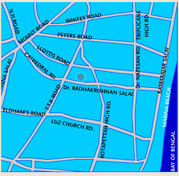 © 2015 newwoodlands.com All rights reserved.